Welcome to Dutch Dressage a friendly and professional dressage training and livery yard with a Dutch heritage based in Suffolk.
About Dutch Dressage
Dutch Dressage is one of the very best livery yards in East Anglia and focuses primarily on training both horse and rider in the discipline of dressage. We aim to offer exemplary customer service to our clients and their horses. It is a family business run by professional rider, Okke Krol, his mother Antje and his father Lieuwe. The yard has a thoroughly European flavour and this makes it unique.
Dutch Dressage was established in 2009. Okke's parents made the decision to move from Holland to support and work in partnership with Okke, to establish a training and livery yard offering a very high quality level of service and facilities. It is based on the best training and livery yards found in Holland and Germany.
In 2014 following considerable building work and renovation, we launched the livery yard in Hitcham, Suffolk - initially with stabling for 11 horses. We now stable 17 horses with an emphasis on training and the progression of the horse and rider. We also provide dressage lessons to clients who do not keep horses at livery but wish to bring their own horse for training and hold clinics and training with international trainers and other equestrian professionals.
We are keen to encourage our clients (whether inexperienced or proficient) to do their very best and to get the best from their horses and importantly to support them in their dreams and ambitions. We offer various training and livery packages. We also provide competition training and livery for those people who like the satisfaction of owning a horse but seeing its progression in training and competition with a professional rider.
We work with all levels of rider and types of horses and ponies and we are keen to ensure that all our clients feel comfortable and happy in a very friendly and supportive atmosphere with excellent livery facilities all the year round. We promote the use of routine, consistency and professionalism. We have strong levels of trust and transparency with our clients so they feel both secure and know that they can rely on the fact that we will do the very best for the horses in our care.
Our Vision...
To run a dressage livery yard with optimal services and flexibility.
We regard welfare for horses and humans as our main priority.
To offer a high standard of service that rivals our competitors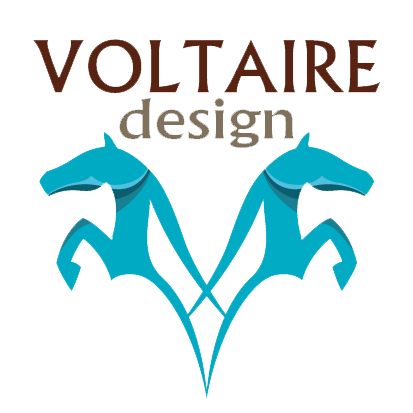 Voltaire Saddles (Voltaire De-sign). Designers of French Saddles, Voltaire Designs.
These saddles are custom made in the French Town of Espelette and were first launched in the USA. They have attracted some of the greatest Olympic champion riders. They are made using the finest materials, are highly customised and are very recognisable from their blue striped gullet.

Based on the outskirts of Sud-bury, Roben Equine was set up in 2008 by a team of veterinary surgeons and pharmacists with over 70 years' experience between them. They produce evidence based supplements using their own sourced and manufactured supplements from natural ingredients.
For horses
Our stables are of Dutch Barn Design and feature inside:
17 loose boxes (each stable has an individual storage box for horse and rider equipment)
All horses have their own feed bowls and water buckets
Wash down areas with overhead swing shower with hot and cold water
Area for grooming, tacking up, shoeing, preparation with strong lighting
A Solarium
A lockable tack room with dehumidifier – the premises are occupied 24/7
Rug racks and hanging areas
Rug Room with drying facilities
Rug wash and dryer and drying facilities
Feed and hay sheds
For horses
Outside:
20 x 60 all-weather surfaced floodlit area with music facilities, boards, dressage markers and potted plants. The far end of the arena has high mirrors that run the length of the arena
6 space horse walker
10 acres of specially fenced turnout
Parking for cars and horse boxes
For Clients
A clubhouse with coffee and tea facilities overlooking the arena
Male and Female Toilet facilities
OUR LIVERY PACKAGES
Prices start at £120/week (Detailed prices on application)
Full Livery
Full Livery includes:
Feeding and add lib hay
Mucking out – 7 days per week (shavings bedding)
Skipping out
Turnout/Bring in (weather dependent) or horse walker
Daily Groom
Rug changes
Tack clean
Use of all other facilities
Attending with the vet and farrier if owners are unable to be present
Part Training Livery
Feeding and add lib hay
Mucking out – 7 days per week (shavings bedding)
Skipping out
Turnout/Bring in (weather dependent) or horse walker
Daily Groom
Rug changes
Tack clean
Use of all other facilities
Attending with the vet and farrier if owners are unable to be present
3 days a week of training
Full Training Livery
Feeding and add lib hay
Mucking out – 7 days per week (shavings bedding)
Skipping out
Turnout/Bring in (weather dependent) or horse walker
Daily Groom
Rug changes
Tack clean
Use of all other facilities
Attending with the vet and farrier if owners are unable to be present
6 days a week of training.
Competition Livery
Feeding and add lib hay
Mucking out – 7 days per week (shavings bedding)
Skipping out
Turnout/Bring in (weather dependent) or horse walker
Daily Groom
Rug changes
Tack clean
Use of all other facilities
Attending with the vet and farrier if owners are unable to be present
6 days a week of training.
Horse is competed by Okke Krol.
Sales Livery
We offer sales livery where we take a horse for an owner with a view to selling it to take the stress out of the process for the owner.
Additionally, we will also find horses for clients following consultation and agreement.
Show Preparation
Plaiting and other preparation is priced separately.
As a family run business we offer a much more comprehensive service of support and help our clients as much as we can.  We are always on hand to discuss ideas, help with the purchase of saddles, organise dentists, vets and physios or help with other equestrian issues.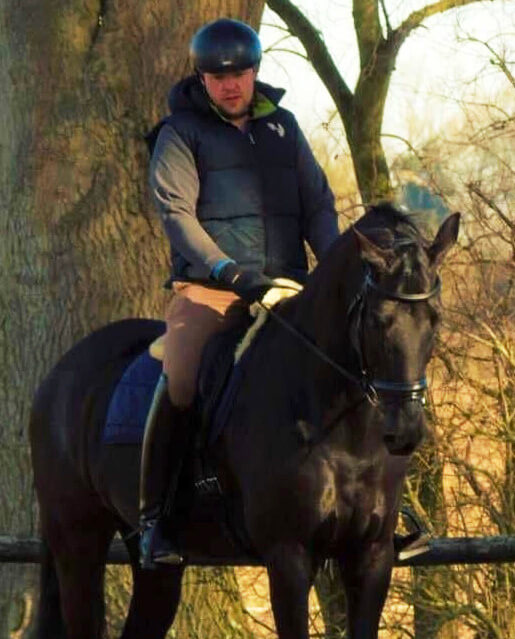 Okke Krol
Okke started riding when he was 6 years old and having tried most equestrian sports showed his star quality in the dressage arena at the age of 12 with his 13.2hh New Forest pony. His passion for the sport and his determination to make it a career started then and during school years he worked at a dressage yard at the weekends and during the school holidays.
He had definitely decided that this was where his future led and having shown great ability, undertook his dressage training and horse management qualifications at the renown Dutch NHB Deurne equestrian educational centre. He at that time competed in the Netherlands in dressage competitions to Advanced Medium. Okke undertook his work experience in dressage instruction, livery management and dressage training with the internationally recognised Monique Peutz who now trains the Dutch Pony Team. He then continued his education at Tewis en van Kooten, the well-known horse stud with locations in Westdorp and Montfoort where they raise young horses and train them for inspections and competitions.
In January 2006, Okke moved to the UK to take up a position with Assouline Dressage where he continued his dressage training and was given the opportunity to compete. He competed in his first Prix St George later that year and in 2008 went on to win the Area Festival National Championships at Prix St George level.
Over the years Okke had gained a wealth of experience coaching riders, training and competing dressage horses and wanted to start his own business providing dressage livery, dressage instruction and ultimately training and competing dressage horses to all levels. Dutch Dressage was formed in July 2007 in a small rented barn with 7 stables. In 2014, with his parents who moved from Holland to the UK, they purchased, built and continue to expand and enhance the site that is now Dutch Dressage - a very friendly and highly professional dressage yard in Suffolk.
Okke has now trained and competed 7 horses to Prix St George and competed with 2 horses at Intermediare 1.
He currently trains, instructs and manages a dressage livery yard with 17 horses.
His main aim is to compete at Grand Prix and his dream is to represent his country.
Antje and Lieuwe
Okkes parents Lieuwe and Antje moved to England from Holland in January 2015 following retirement from their respective jobs. They form the backbone of the team.
Lieuwe worked in electronics and is extremely skilled in carpentry, building work, electrics and plumbing and oversees all building work and maintenance for Dutch Dressage. Antje was formerly a nurse and has also got a riding instructors diploma. She is very experienced in equestrian yard management having managed a small yard in the Netherlands. Her former work as a nurse means that she is very knowledgeable and practical around any medical issues that arise for both horse and rider. She is a very calming influence and will always help and support clients when they are facing problems. Horses have always been a passion for them both and they were very keen to support Okke in his career as a professional trainer and rider.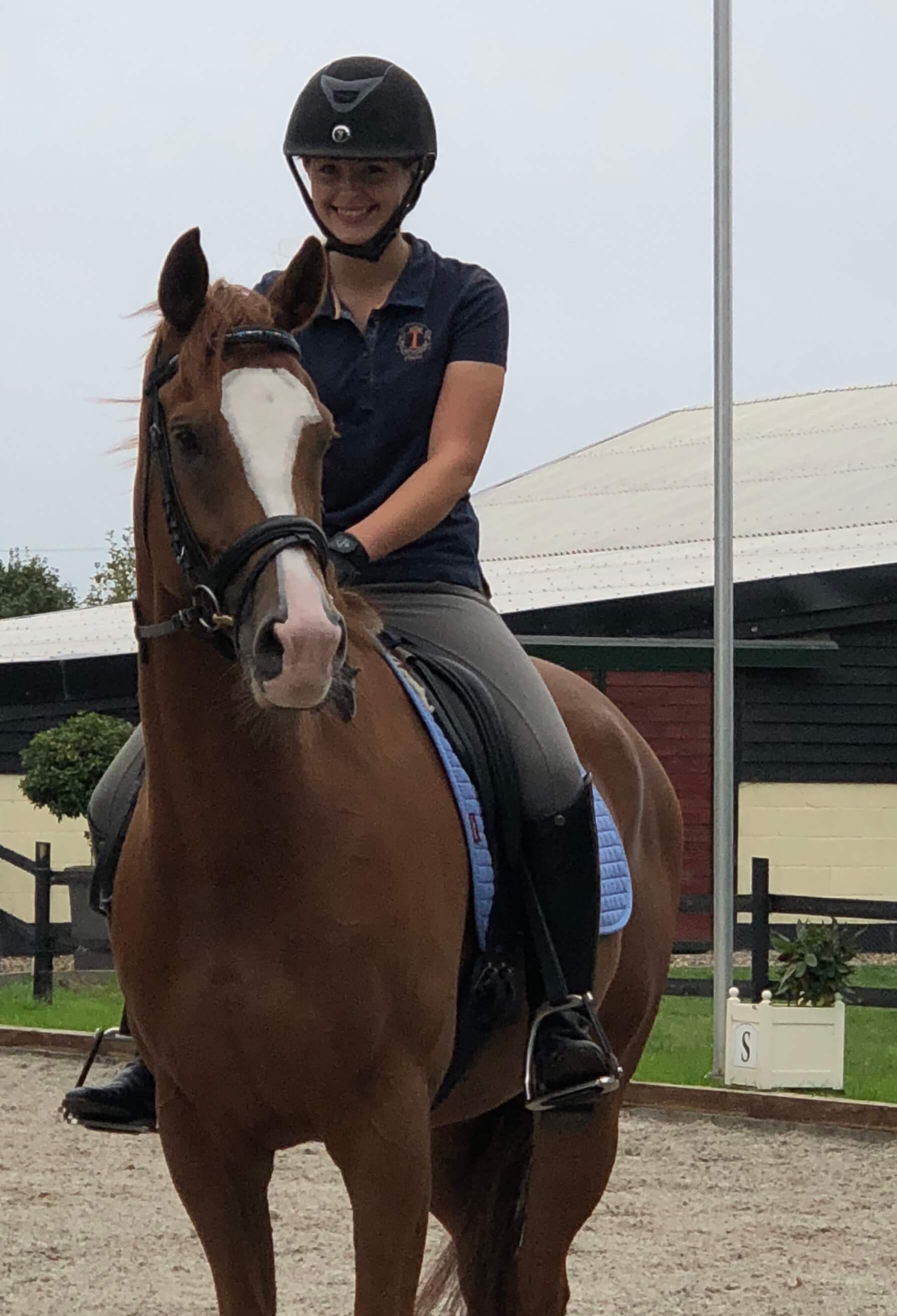 Lee-Ann Ruffles
Groom
Winner of the 2019 Easton and Otley College Connect Apprenticeships Awards Advanced Equine Apprentice of the Year, Lee-Ann joined Dutch Dressage in February 2016 . She started riding at 6 years old and at the age of 13 started doing part time work at a small livery yard doing "everything" and gained a lot of experience attending shows and competitions. Lee-Ann has completed Apprenticeship Level 3 and supports Okke in many aspects of riding and training particularly in backing horses and with jumping. She currently competes Wersachi at Dressage Novice/Elementary level and show jumps Dungar Tomboy (Bella) who is owned by Nicola Hatfield. She loves working at Dutch Dressage because of the great opportunities to learn and to constantly gain experience. Her next objective is to gain her BHS and training qualifications.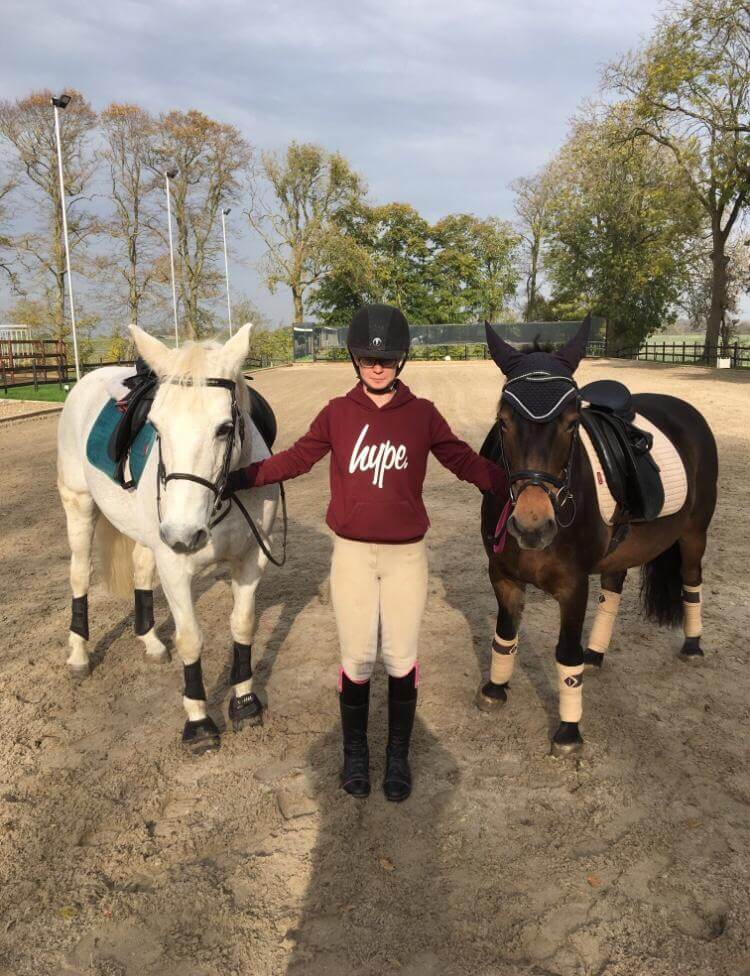 Jade Rose Gardiner
Groom
Jade has worked with Dutch Dressage since September 2017. Jades interest in ponies started when she volunteered to work at a riding school and traded that for lessons. She also got involved with the native Suffolk Punch and learnt to drive as well as ride horses. Jade has completed Level 2 of her Apprenticeship and is now working to gain her Level 3. She specialises in the care and grooming of all our horses at home and supports Okke at shows. In her spare time she competes her New Forest pony, Polly. She enjoys working at Dutch Dressage because it's a friendly, medium sized, professional yard and has such a range of horses with very different temperaments.
Volunteers and Work Experience
We are always keen to take on and support those who are interested and wish to volunteer and undertake work experience.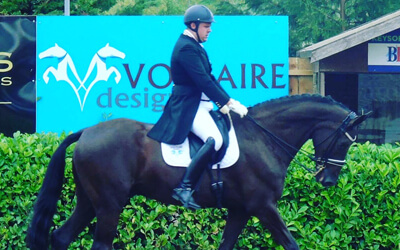 An exciting prospect for the up and coming season in 2019 Stable name: Alfie Owned by: Okke Krol since 2010 Height: 17.3 HH Breeding: KWPN Obelisk x Flemmingh...
read more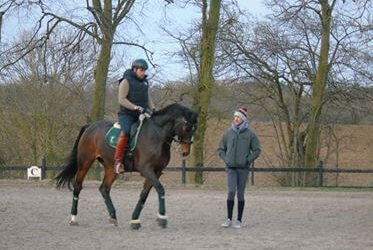 At Dutch Dressage everyone at every level continues to train to improve and learn.   We are very lucky to have regular clinics with Luke Baber-Davies who...
read more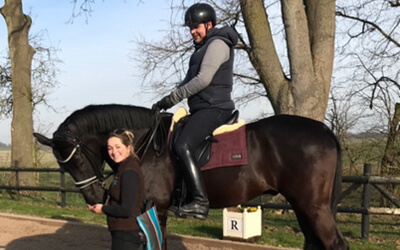 We have a philosophy at Dutch Dressage that there is never a bad horse.   Misbehaviour usually has a root cause in a lack of understanding of a horses'...
read more
Read the Dutch Dressage Newsletter here.
read more
Read the Dutch Dressage newsletter here.
read more

I have almost been with Dutch Dressage since it opened in Hitcham. I came to Okke based on a recommendation (having already met him) because I had been given an ex-racehorse who raced until he was 10 but was untrained as a riding horse - quite sharp and green. I had managed to do quite a lot of work with him until I had to have two hip operations and 2 years out. Not an easy horse and one that tends to get quite stressed and tense when unhappy. I took him to Dutch Dressage in order to give him professional training and a life of routine so we could bring him on for me to be able to compete on my recovery. I cannot thank Okke and his parents enough for all they have done for me and their encouragement when I found riding really difficult. Their thoughtfulness also in providing Punjabi with a stable in which he is happy so that he can see what is going on and Okke riding him through some very difficult moments when he has been stressed and awkward to ride. I now have a lovely horse who is amazing to handle, is a lovely ride and I hope this year I will go out and compete. What was so encouraging was their belief in my own capabilities. A major thank you also for their kindness when I had to regretfully and sadly put my old horse Oliver to sleep – they cannot have been more supportive and understanding. I could not recommend Dutch Dressage more.
Caroline Giles and Sir Punjabi
My training started in Germany where my mother and father, retired lieutenant colonel Reid OBE, were stationed for many years. In those years I was fortunate to be trained by Olympic and world gold medallist Isabell Werth.    Moving to England was a big change for all of us, we first met Okke through training and competitions and quickly grew a strong connection having seen his sheer determination to succeed and be the best.   I had previously competed to Prix St George level and after selling my top horse, due to studying my degree, my mother soon found another talented 4 year old, Farben Frohe known as Goose, through her very talented friend, breeder Herr Klausing.
We'd been looking for a yard that suited all our needs and where better than Dutch dressage. I cannot fault their hard work and dedication to each livery and their horses.   Okke's eye to detail is second to none and he knows every horse inside and out.   His guidance and support in all aspects has been beneficial for both me and Goose.  He pushed us to do Goose's first overnight competition which was successful for all of us and as always, a brilliant laugh, we look forward to many more in the future.   Okke's parents are made of gold dust, such dedicated, hardworking and welcoming people.  Goose will forever be grateful for those late night cuddles.  The girls, Jade and Lee-Ann are brilliant, and it's been lovely to see them both grow in confidence and in their riding.   It is by far a top continental family run yard, always upgrading the features and facilities and certainly on par with top Olympic standards
Jenny Downing – Goose (Farben Frohe)
As often happens with horse ownership, Sienna found me, I didn't find her. She was at the same yard as my boy Willy Nilly and was an under developed, unloved horse. Almost two years were spent trying to improve her but with only minor success. She then went to a trainer who had known her as a foal for around six months and the positive changes started. This is when I move Sienna to Okke's yard and over the past 18 months he has improved her no end. She is now regularly competing at Advanced medium level, will compete at her first PSG early 2019, whilst at the same time being a perfectly mannered horse for my 10 year old daughter. I cannot thank Okke enough for his time, dedication and love that he has shown Sienna.
Everyone at Dutch Dressage also love my other horse, Willy Nilly and can't do enough for him. He is a softy himself and enjoys being the centre of attention. Thank you Okke and team.
Marianne Wood - Sienna & Willy Nilly
Dutch Dressage,
Finborough Road,
Hitcham,
IP7 7LS
Opening Hours
Mon - Fri: 8am - 8pm ​​
Saturday: 8am - 8pm ​
Sunday: 8am - 8pm